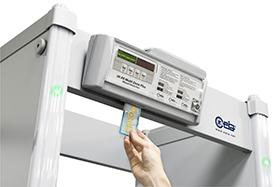 Chip Card System:
The system allows the Head of Security to set the Security Level quickly, reliably and without having to program the device in any way.
Data Sheet
Features
Capability to detect the full range of metal weapon threats even within body cavities.
Met-Identity technology for Identification of Threat Composition. The most advanced Security Standards require detection of all ferrous and non-ferrous metal weapons and of those constructed in special non-magnetic alloys. The HI-PE Plus detects firearms and knives of this type, even when they are hidden within body cavities, and accurately indicate the position of the threat, its intensity and its prevalent composition. Inspection personnel thereby acquire thorough knowledge of the metal item and can act, according to procedures, with maximum effectiveness and security.
60 pinpointing zones with high resolution & precision: 20 Vertical; 3 Lateral
Benefits
Cutting-edge discrimination technology allows personal effects to be ignored, creating rapid transit flow. The transit volume magnetic scanning system, invented by CEIA and applied since production of the first zonal Metal Detectors in 1986, allows state-of-the-art detection and discrimination results.

The HI-PE Plus has a very low nuisance alarm rate even at the strictest Security Levels requested today, and therefore allows high transit flow rates and the minimum need for intervention by inspection personnel.