Turnstile Security Systems and Controlled Access Systems

Quality Turnstile installation and the best selection of high tech security systems are just two of the reasons that make TURNSTILES.us the perfect choice for security turnstiles. When you're looking for the best in security access, loss control devices, and high tech security systems, look no further than TURNSTILES.us. Since 1989, we've proudly been offering the best security turnstiles that help greatly increase the visible security of your business or organization. We're USA GSA licensed, and are the chosen provider of Security Turnstiles by a number of respected Organizations and Businesses.
Take a look at our client list, and our installation - www.TurnstileInstallation.com
EX300-ADA Gate - Executive Series

The Executive™ Series motorized barrier optical swing gates are our premier high traffic volume units, crafted in 304 stainless steel. This model features solid surface tops and either round or trapezoid-shaped ends. It creates an ADA-width lane that's ideal for office lobbies, embassies, college student centers and anywhere where both aesthetics and performance will enhance the project space. Add additional single units to create more lanes to the base ADA pair, and even have logos etched into the flap gate panels for that added touch.
EX300-ADA Gate - Specifications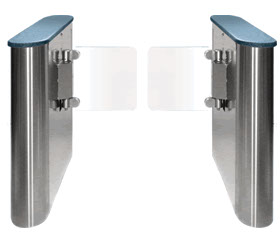 EX300-ADA
Round End Base Pair
Data Sheet
Installation Manual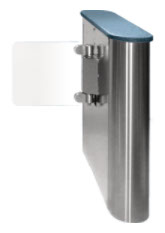 EX300-S
Additional Single Lane
Data Sheet
Installation Manual

Drawing
Production Sheet
Optical sensors provide for passage for up to 30 people per minute. Powerful through-beam sensors exceed sensing distance to ensure proper functionality
LED graphic arrays indicate direction status.
Lower section optical sensors prevent unauthorized "crawling" through lanes
Configurable for controlled passage in one or both directions with free or no passage in the other via a user-friendly, text-based settings menu
Alarm condition provides an audible tone, as well as a solid-state output for integration into other systems
Passage widths are flexible from 22" to 38".
Our optical turnstile lanes operate with through-beam sensors to provide an accurate monitoring of a lane's status.

Each lane has two main zones comprised of a series of sensors to grant alarm-free passage or detect unauthorized access and tailgating in either direction of travel.
In addition, crawl-detection sensors exist in the lower section of each cabinet to give additional security in facilities where excessive low-to-the-ground traffic is frequent.

However, this feature can be disabled if necessary. An example where this could be the case would be a gym where members may frequently drag rolling bags through the lane.
EX300-ADA Gate - Standard solid surface top choices
Additional top selections, such as Corian® or wood can be quoted upon request.
Top selections are subject to Availability.
​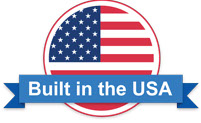 Turnstiles Access Security Control Products